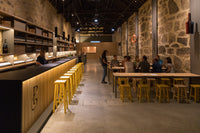 POÇAS VISITOR CENTER
Our Visitor Center is open to the public since 2016 and has been fully renewed in 2018.
We invite you to be part of a true family atmosphere , to feel the unforgettable aroma of the noblest wines and to see up close a real day to day cellar routine.
DOC Douro and Port Wines Guides Tastings available in 6 different languages.
BOOK A VISIT